OT Recording and Live Capture/Stream Solutions
Capture Critical Moments and view them across the Globe
StellarCapture's Operating Theatre medical video streaming and recording systems allow the surgeon/specialist to View, capture, record and stream the procedure to anywhere and anyone, be it Medical Video Conferences, Medical Students in Institutions, or fellow residents and surgeons at home. Captured video can be put on larger screens for easy visibility or teaching, while streamed video can be shared with consultants for real-time consultation and recordings can be used for training.
The operating room video recording system consists of a computer with a high-definition flat panel and powerful frame grabbing cards with access to the OT camera that can be mounted above the surgical table.
Alternatively, the Stellar Capture system can also be connected to other modalities with image capture/record and live streaming capabilities directly.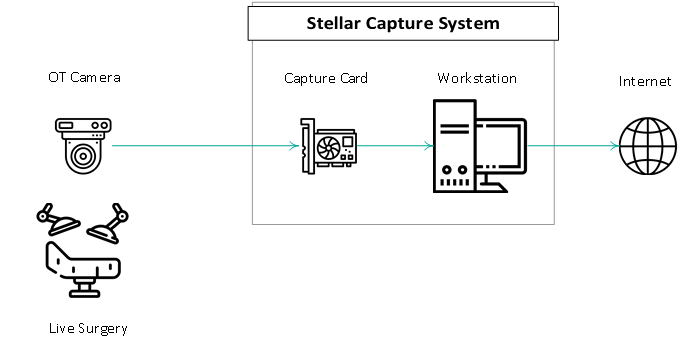 Features
Record and transmit all interventions with the same quality whenever required to anywhere in the world
Live Broadcast for in-house workshops or educational purposes.
Very easy to use and does not require any technical assistance.
Multiple OT Control, Record, Store & Monitoring solution.
Fully DICOM Compliant and PACS ready
High quality HD recording into DICOM by using MPEG-4 AVC / H.264c ompression.
Intuitive user interface for touchscreen Medical Panel PC.
Recording HD video during the surgery.
Playing another video at the same time, while recording medical video.
Taking snapshots during recording.
Live streaming during the surgery.
Reviewing medical images and diagnostic reports in operating room.
Custom video settings
Additional foot pedal support.

Integration Support:
Full integration with Hospital Information System (HIS);
Full integration with PACS);
Saving studies locally or to PACS server;
Modality worklist support.