StellarCapture Workstation
Medical media capture and management solution
StellarCapture workstation enable any video based medical imaging system into an advanced digital DICOM imaging modality. It provides advanced digital image acquisition, processing, review, and DICOM communications for various clinical procedures.
StellarCapture provides the following workflow operations:
Patient registration and data entry
Still or cine acquisition
Review and post-processing
Reporting
DICOM connectivity
Data Archival and management
StellarCapture can installed with any existing, refurbished or new medical video system and facilitates complete film-less operation and workflow connectivity. It can extends the life of the legacy medical imaging systems.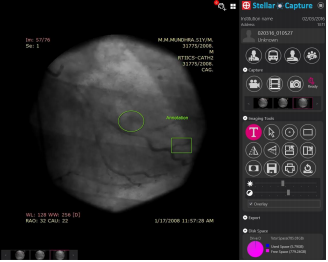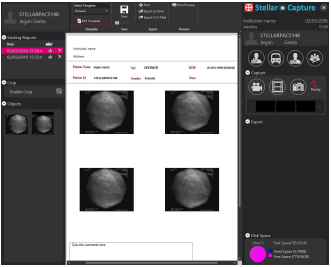 Key benefits
Real-time video/still image acquisition
Image review and processing capabilities
Compatible with any vendor video modality
Patient data entry, storage and archival
Easy to use graphical user interface
Templated based report generation.
DICOM 3.0 Network connectivity, store,print, worklist management.
Applications:
OT lighting and camera
Fluoroscopy systems
Endoscopy systems
Laparoscopy systems
Bronchoscope systems
Video microscope
Ultrasound
Cathlabs
Legacy CT/MR systems
Any video device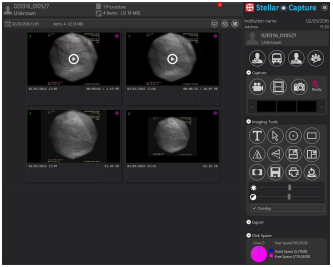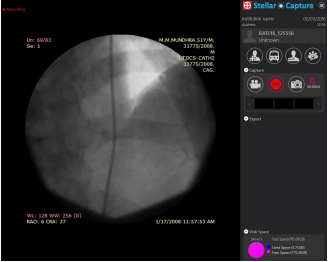 Technical Specification Patient/Visit Management
Patient data entry with quick patient options.
Modality specific configurations.
Archival and retrieval of data
Configurable institution profile
Imaging and Data Acquisition
Real time video/still capture.
Captures as color or gray scale cine/still images.
Support video compressions and storage formats
Real time frame averaging (optional) and custom processing
Image Review
Still and Cine image review
Thumbnail image viewing and auto-loop replay
VCR controls for cine loop playback.
Image rotation 90°, 180° and 270°
Variable zoom levels
Interactive image panning
Image flip horizontal and vertical
Brightness / contrast enhancements
Image inverse and pseudo color selection
Image calibration and measurements
Text annotation
Image/cine loop export
DICOM 3.0 Connectivity
Image Storage and DICOM-CD with build in DICOM viewer.
Loss and lossless image compression.
DICOM network for PACS & TPS.
Cine stored as DICOM mpeg.
Basic DICOM Print.
Modality worklist management.
Modality performed procedure steps (optional).
DICOM storage sever (optional).